Generation Y has characteristic traits that influence many aspects of their lives, such as their approach to work or spending their free time.
If you want to create the perfect travel offer for representatives of this group – we invite you to read this post. Here we will discuss all the essential characteristics, shopping habits, and preferences of Generation Y, which familiarity will allow you to understand the expectations of these demanding consumers better.
What is a Millennial (Generation Y)?
Millennials, also known as Generation Y, are individuals born between 1977 and 1995 (though some sources have slightly different boundaries).
They grew up during rapidly advancing technology, including the rise of video games, the internet, and personal computers. Because of this, Millennials are well-versed in technology and highly reliant on the internet, social media, smartphones, and other modern solutions. They are also the last generation to remember a time before widespread technology.
Unlike previous generations, Millennials grew up during relative peace and prosperity. Many of them do not remember the Cold War or the communist era. During their childhoods, popular music acts included the Spice Girls, Britney Spears, and the Backstreet Boys. Popular movies had Kevin Sam at Home, The Lion King, and Back to the Future.
Today, Millennials make up a significant part of the workforce and play an essential role in the economy.
Generation Y – Characteristics
As mentioned earlier, one of the main characteristics of Generation Y is their familiarity with technology. They are eager to use it in nearly every aspect of their lives.
Millennials place a high value on freedom, independence, and tolerance. They are more open to the world and less attached to tradition than previous generations.
They are characterized by openness and self-confidence in their personal and professional lives.
Unlike the previous Generation X, Millennials prefer teamwork and cooperation rather than competition in the workplace. They are demanding employees who expect to be treated fairly and fulfill their needs by their employers. As a result, their managers represented by previous generations may view them as entitled and arrogant.
Representatives of Generation Y place great importance on work-life balance, so many of them expect the possibility of remote work and flexible working hours to balance their private and professional life. Millennials tend to be loyal to the companies they work for, just like their parents, and they are happy to take on new career challenges.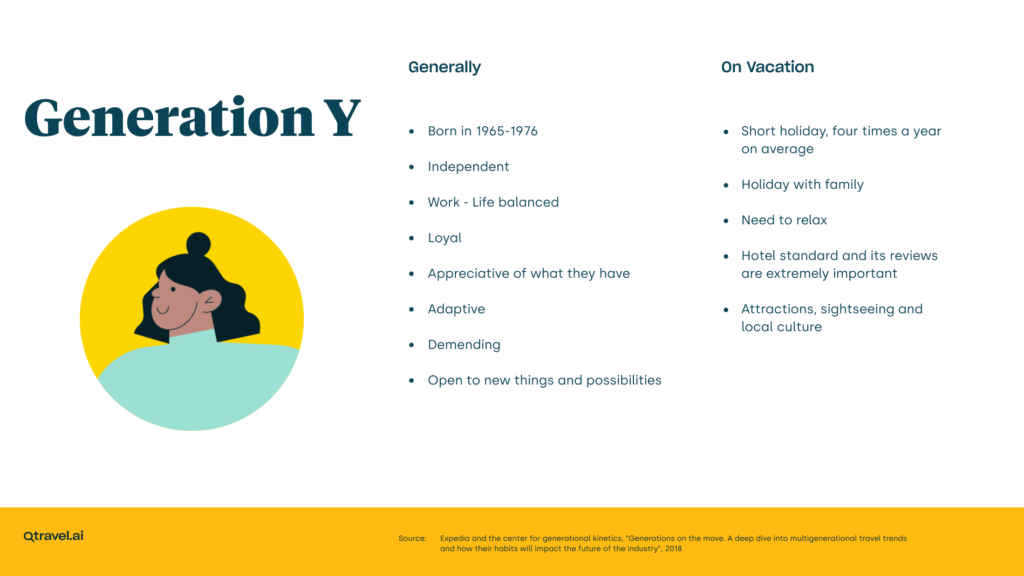 How does Generation Y shop?
Firstly, Millennials love shopping online, and when they come across something new, they quickly grab their smartphones or laptops. They grew up in an era when online stores became popular, so they are familiar with using these services. According to a KPMG report, Millennials make an average of 15.6 online transactions per year.. Interestingly, this number is lower than that of older generations and higher than younger generations.
When Millennials were teenagers, there was a trend towards buying branded clothing, so now, as adults, they are willing to pay more for products from their favorite companies. They also have higher expectations for service levels and are eager to spend more money in exchange for better service. According to a Salesforce survey, as many as 75% of Millennials consider their expectations for customer service to be very high.
How do the Millenials treat new technologies?
New technologies are an integral part of Millennials' lives. They eagerly use all devices that allow them to access the internet quickly. They actively use social media, watch movies online, read ebooks, or shop online. Many of them have also found jobs in fields that operate primarily online, such as IT, modern marketing, e-commerce, or social media.
According to the YPulse website, the social network most used by Millennials is Facebook, which is used by as many as 90% of them. They are also eager to use platforms such as YouTube, Instagram, Snapchat, and TikTok.
Interestingly, according to Insider Intelligence, as many as 58% of Millennials say that social media is an essential source of information when making purchasing decisions.
When it comes to the devices they use to make purchases, compared to representatives of other generations, Millennials are the most likely to use a smartphone (11%). However, the most popular among them are laptops and desktops, which were indicated by as many as 54% of representatives of this generation.
What kind of holidays do Millennials enjoy?
Millennials are currently the age group that travels the most, with an average of 5-6 trips per year.
Representatives of Generation Y are adventurous and independent, which can also be seen in how they travel. According to Expedia's American Multi-Generational Travel Trends report, as many as 42% of Millennials from the US have traveled alone.
Their travel's primary purpose is to relax, so they like to recharge their batteries at the beach or a spa.
According to the survey cited above, as many as 65% of Americans representing this generation say they are currently saving for travel. When planning trips, most of them get down to it less than three months before their travel dates.
Millennials prefer short trips lasting 3 to 5 days, unlike older generations. For them, a long weekend is ideal for organizing a quick trip out of town or to another country.
When it comes to making travel purchasing decisions, Generation Y is the age group that is most influenced by social media. Research shows that as many as 27% have published social media posts to get opinions before booking. The most opinionated medium for them is Facebook, whose influence is indicated by as many as 64% of representatives of this generation.
How to prepare an offer tailored to Millennials?
You already know what characterizes and what are the buying behaviors among Generation Y. And how can you use this information to create a travel offer ideally suited to this target group?
It's worth remembering that Millennials are a generation of optimists who are often considered pampered by their parents. They are also very demanding, so it can be challenging to please them. But don't worry! By carefully analyzing this group, we've put together some tips for you to create an offer tailored to their needs.
Take care of responsiveness and good user experiences.
The fact that Millennials are active in using various devices for online shopping is essential. To ensure the best experience for them, you must ensure that your website is responsive and functions properly on all devices.
Make sure to provide top-notch customer service.
For Millennials, their time is crucial. They have high expectations for customer service and expect immediate and thorough responses. To meet their needs, you must ensure that they can quickly get answers to their questions and contact you in multiple ways: social media, website chat, or online messengers.
Consider creating a customer loyalty program.
This age group is also associated with all kinds of rewards for participation (e.g., in contests), which should be considered when creating an offer or marketing campaign. One of the most popular methods is a discount on first purchases or a voucher to be used in exchange for signing up for the company's newsletter.
Consider incorporating gamification elements.
Additionally, to spark interest among Generation Y, it's worth trying out gamification elements. It is a generation that has been raised on games and is eager to take on such challenges.
For example, as a tourism industry representative, you could organize a contest for the best travel photo or the most exciting description of a dream trip. As a reward, you could offer discounts on tours or – if your budget allows – a free trip. Research shows that this generation likes to travel alone, so it doesn't have to be a standard "couple's trip".
Create an exclusive offer.
Millennials pay attention to the brand, so incorporating elements of exclusivity can be very effective in this case. Some popular brands among millennials use limited edition products or services to create buzz around them. They're willing to stand in both physical and digital lines to have a chance to take advantage of these exclusive offers.
With this information, you can create a limited travel offer with an additional service only available for special tours or users.
Make sure you're visible on social media, especially on Facebook.
Research shows that when it comes to travel, Millennials often look for advice on Facebook. To capture their attention, your company should have a strong presence on the platform and allocate your advertising budget to Facebook ads.
Enhance your customer's experience by implementing an AI-powered search feature
Millennials love technology and expect instant access to information they're interested in. If you want to meet their requirements fully, we've got something that can revolutionize your business. Our AI-powered travel search can significantly increase conversions among your target audience and improve user experiences, regardless of which generation they represent. Request a demo and see how our solution can help your company.
Dwonload now – Generation Analysis – How to understand the modern turist?