Have you ever wondered who your customers are? What expectations they have of the products and services you offer? How they search for information about them and what they think the ideal process of acquiring these products is like? It is impossible to answer these questions unequivocally. Each generation is characterized by a different approach to life, savings, work, leisure, travel, technology, and Internet use. In post-war history we can distinguish several generations which, shaped by different experiences caused by social conditions and exponentially growing technological advancements, present different approaches to these topics. These generations are Baby Boomers, X, Y, Z, and Alpha. The key to success is to learn more about each one of them.
Why are the generations so different from one another?
Baby Boomers were the first generation born in the post-war era, i.e. between 1946 and 1964. They grew up during a period of stability and recovery after the hardships of the war. Increasing prosperity, social and economic transformations, and much better living conditions caused the baby boom, which is where the generation gets its name.. It is a generation brought up in the spirit of individualism and respect for work and achievements. They are very loyal people who have worked in one place for many years and are attached to specific brands. They feel safer when they have savings and spend them wisely. They are increasingly more familiar with the use of new technologies, which they have only encountered as adults.
The descendants of the Baby Boomers are the so-called Generation X, which includes people born between 1965 and 1976. They grew up during a serious economic crisis, hence, like their parents, they are loyal and value a permanent position at work, but also are more focused on personal success and promotion. Nevertheless, they cherish family values and try to maintain their work-life balance. It is important for them to own their own flat or house – they are in fact the first generation to opt for a mortgage on a large scale. Computers were becoming more popular and accessible as they were growing up. Now they use the Internet and smartphones without any problems.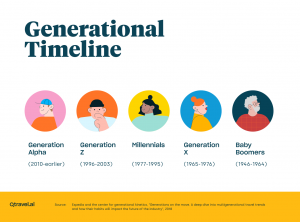 The Millennials, born between 1977 and 1995, are also referred to as generation Y. They grew up in rather turbulent times after the attacks of 11 September 2001. This generation values diversity, tolerates otherness, and likes independence. It can be said that they live their lives according to the philosophy of carpe diem – they enjoy the moment and do not necessarily care much about the future: they rarely have savings. The Millennials work to have the means to fulfil their dreams, whereas professional fulfilment and promotion take a back seat. The representatives of this generation start a family much later, if at all. They are characterized by an optimistic approach to everyday matters, but also have high expectations as regards the standard of living, work, and the products and services they purchase. They have been exposed to new technologies, computers, and increasingly sophisticated smartphones since their childhood.
The representatives of generation Z were born at the turn of the 21st century, after 1996. They have been growing up in very dynamic times. The members of this generation do not know a world without technology, they cannot go without 24-hour access to information and social networks, from where they also draw their inspirations. They are great multitaskers and they can organize their time well. It is a very creative generation that looks for new experiences and highly values individual experience.
People born after 2010 belong to the Alpha generation. It was in this year that the first iPad was launched, which has become a symbol of this generation and the fact that they feel comfortable in the world of technology. This generation has been exposed to artificial intelligence since childhood. Alphas are expected to be highly educated, comfortable, resourceful, and dependent on the digital world, which they will use in every area of their daily lives. They will certainly face new challenges, but also endless opportunities [1].
The representatives of the different generations spend their leisure time in different ways – they choose different leisure activities and decide on different holiday destinations.  Older generations tend to go for quieter options, relax in nature, and appreciate cultural attractions. Generation Z and Millennials are looking for more unique experiences, which will be discussed in the following section of this article.
A recipe for a dream holiday
Travel is the only thing on which we spend money and become richer. We travel more and, while each generation will agree with this sentence, they will interpret it quite differently. Research conducted by Expedia Media Group has shown what different groups value the most. According to consumers, it is the experience and emotions evoked by the holiday that become its most important element, rather than its price or material values acquired during the trips [2].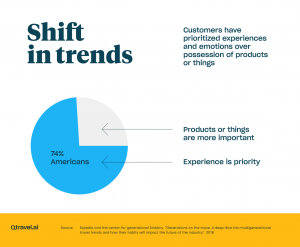 Baby boomers prefer to choose holidays where they can spend time actively, in nature. They often opt for traditional trips combined with visits to the most popular destinations. Interestingly, they appreciate culinary experiences. They spend much more on food than on tourist attractions. Generation X travels less than the other generations, and these are mainly trips with the whole family. In addition to amenities for several generations, they value additional attractions (often cultural events) that allow them to get to know a particular place more deeply and 'experience' it, e.g. festivals that provide them not only with entertainment, but also with an insight into the local culture. The Millennials travel the most. In many cases these are holidays with children (the Alpha generation). This is such a large group, and one that appreciates diversity, that it is hard to single out the most popular activity. The group will encompass fans of all-inclusive holidays, as well as extreme adventurers, but also a large bleisure group that combines business with leisure. They often choose trendy destinations so that they can show them off later, and for many of them, the choice of holiday destination is dictated by the opinion of their peers. The open-minded generation Z that look to social media for inspiration, look for one-of-a-kind experiences on holiday that they can later boast about on Facebook or Instagram [3].
The search for a dream holiday
Ever-increasing technological capabilities are constantly changing the process of finding and booking trips. Consumers have a wide range of options for creating holiday inspirations. Visits to travel agencies and leafing through colourful catalogues with pictures of paradise beaches are increasingly being replaced by scrolling through social media and googling vlogs and podcasts about the world's most beautiful destinations.
Customers make conscious decisions by reading other tourists' opinions about a given place or hotel. In addition to reliable information, they expect a comfortable and efficient booking process. Expedia reports that 80% of Americans (and as many as 87% of Generation Z representatives) value the possibility of booking the whole trip (hotel, flight, tickets for additional attractions, car rental) in one place [4].
Younger generations acknowledge that travel is worth the sacrifices. 49% of Generation Z and Y would be willing to sell their own furniture or clothes to have more money for a holiday. 71% of Generation Z would take a part-time job to build up savings for travel [4]. Therefore, the potential among customers is enormous, and one just needs to give them what they expect. Other articles of this series will take a closer look at each generation and show what type of travel they prefer and how they plan and book their trips.
Dwonload now – Generation Analysis – How to understand the modern turist?