Part 6: Travel Search Trends 2020. Part 6 – how far in advance do we plan tourist trips? of our series presents the research results on the influence of such factors as the number of trips or the nature of the trip on how far in advance we plan trips. To a large extent, the information presented here probably confirms our intuitive beliefs: quite understandably, it is easier to organize a spontaneous trip for two than a trip with small children. Unsurprisingly, journeys undertaken many times during the year are planned less in advance than those organized once or twice a year.
This time we will shed some light on the economic determinants of travel: let us take a look at whether the income level has an impact on how far in advance we start thinking about travelling (Figure 1).
It turns out that the results of this analysis are not obvious. It would seem that people with the lowest income are more inclined to plan their trips (and therefore their expenses) meticulously, yet this very group showed the highest number of indications of spontaneous decisions to travel, including plans made several days in advance. For example, in the group that declares an income of less than PLN 2,000 there are as many indications of spontaneous organization of travel as there are trips planned 1 to 3 months in advance. A high percentage of spontaneous approach to travel arrangements is also characteristic of the following income groups (PLN 2,000-4,000 and PLN 4,000-6,000). Unfortunately, the survey was only quantitative in nature and it is currently impossible to assess whether this is owing to bargain hunting (e.g. last minute options) or rather to quick decision-making when it turns out that spare funds in the bank account are sufficient to make a holiday trip.
In the group of respondents who declared an income of more than PLN 6,000 there were either no responses indicating the willingness to organize trips spontaneously (this applies to the ranges of PLN 6,000-8,000 and PLN 8,000-10,000 PLN), or the percentage of such persons is very small. However, the number of respondents who declared at least a period of 3 months in advance for planning a trip is growing, including respondents who start thinking about a trip as early as a year in advance.
The group with the highest income (above PLN 20,000) is of particular interest, as a very low number of indications of spontaneous trips is accompanied by a high percentage of people planning trips at least one month, but also one year in advance.. Perhaps this is due to the fact that high-income groups are often business owners and managers who, by nature, are forced to manage their time very thoughtfully and rarely have the ability to make sudden decisions about leisure trips.
Basically, for all the answers, especially those concerning trips planned 3 to 6 months in advance, 6 to 12 months in advance, and of course more than 12 months in advance, the highest number of answers was given in the groups of respondents whose income was between PLN 6,000 and PLN 20,000 . It can be considered that this is the most typical group of participants in tourist trips in Poland(and at the same time the so-called middle class), i.e. people who, with relatively high and stable incomes, value a certain level of security and certainty, which is manifested by planning their decisions on tourist trips. planning their decisions on tourist trips.
Among the questions that Qtravel agency addressed to the respondents was the issue of travel parameters which the respondents were most willing to be flexible about when planning a tourist trip. The suggested parameters included the date of departure, choice of means of transport, distance, type of accommodation, and many others. Let us stay in the realm of economic issues for now and look at the relationship between the issue of budget flexibility and how far in advance the respondents plan their tourist trips.
The respondents were asked to indicate the level of flexibility with which they were willing to treat their travel budget: level 3 meant the highest flexibility (and therefore indifference to the price of the trip), and level 1 meant the lowest level of flexibility. Figure 2 illustrates how far in advance respondents in each budget flexibility group begin to plan their trips.
It is evident that people who treat their budget with medium flexibility (level 2) are most likely to start planning a trip 3 months in advance, but a slightly smaller number of indications also refer to 6-12 months and 1-3 months in advance. Far fewer people who treat budgeting with medium flexibility prepare for trips less than a month in advance, and are even less likely to make spontaneous decisions. At the same time, long (more than one year) holiday preparations are not at all common in this group.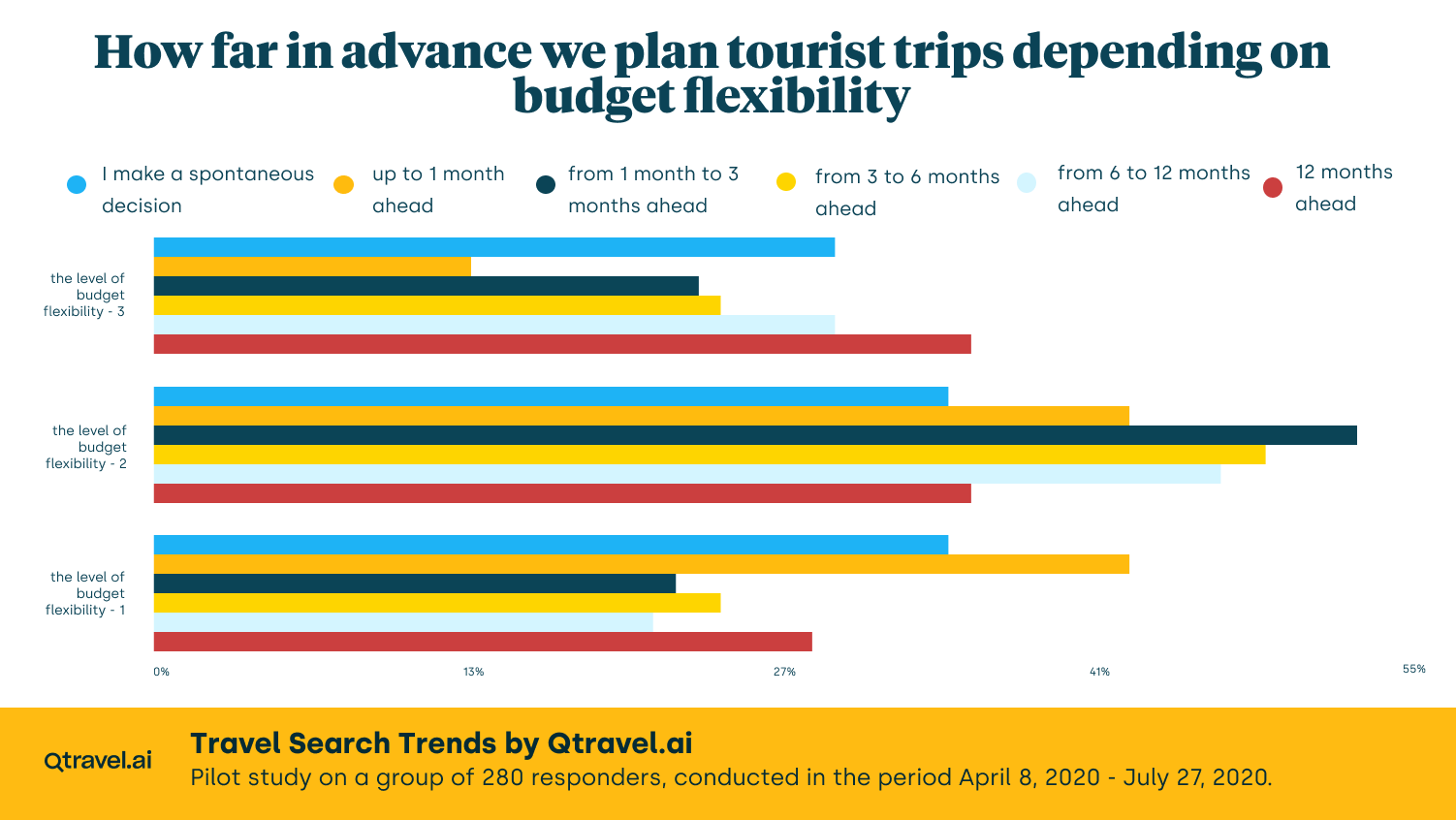 In the other two groups of respondents, i.e. those who treat their travel budget with high (3) or very low flexibility (1), the distribution of answers is slightly more even, although a relatively long planning time is still preferred (6 to 12 months and 3 to 6 months). A slightly lower number of indications in both groups was made by people who only start planning trips 1 to 3 months ahead. However, it is interesting to note that in all groups the propensity to make a decision to go on a trip spontaneously is greater than planning one month in advance. This means that no matter how flexible the customers are with their budgets, it does make sense to invest in last minute programmes.
In subsequent stages/parts of the series we will try to look at other aspects of travel economics – in particular we will assess the flexibility with which different income groups treat selected elements of a travel package (transport, hotel, travel distance, etc.).
Let us remember that the our observations were based on a pilot study, which means that its results cannot be generalised to the entire population (it included mainly people that used the services of online travel agencies). However, given the systematically growing group of tourists who use OTA services (on-line travel agencies), the trends that characterize this form of shopping can be considered as a manifestation of transformations that will characterize purchase activity on the tourist market.
We encourage you to read the rest of the articles in this series:
Part 7: How far in advance do we plan tourist trips? – the income factor.